New to this forum and new to recumbents...hi from southern Indiana!
Bought my first, a Rans Stratus LWB (early '90's vintage), from
Recycled Recumbents
in May 2012. The bike features mostly original Shimano Deore components but some newer SRAM gripshifter upgrades too. A.D. Carson put one of his sling seats on it and I added a Sun EZ-1 handlebar and Origin8 riser to better size it to me as I am just 5'8" tall and it had to have been built for a taller person.
It is sure a long bike pushing 7 feet 8 inches in overall length. It has 27 inch rear tire and 20 inch front, 21 speeds and rides like a Cadillac. I've added Planet Bike fenders, some "Blinky 3" rear lights, a Bell headlight, a * pack to the handlebars to carry cell phone, keys, wallet etc., 2 Mirricycle mirrors and to better be seen, a nice Purple Sky large flag with flourescent steamers.
"We" are bonding as a bike/rider and I am delighted with this whole recumbent experience...been good for the lower back and knees...two things that kept me off upright bikes for years now. I live in a hilly area of Southern Indiana and I'm still struggling to get UP the hills, but with practice it is getting easier. I just passed 300 miles of riding in 3 months on this bike, more than I have ridden in 40+ years, but I'm getting better with every ride.
I have no other recumbent bike or experience to compare it to, but I really love this Rans Stratus and it has postponed any interest in a Greenspeed Magnum trike, at least for now!!
Here are a couple of photos of my new/old baby: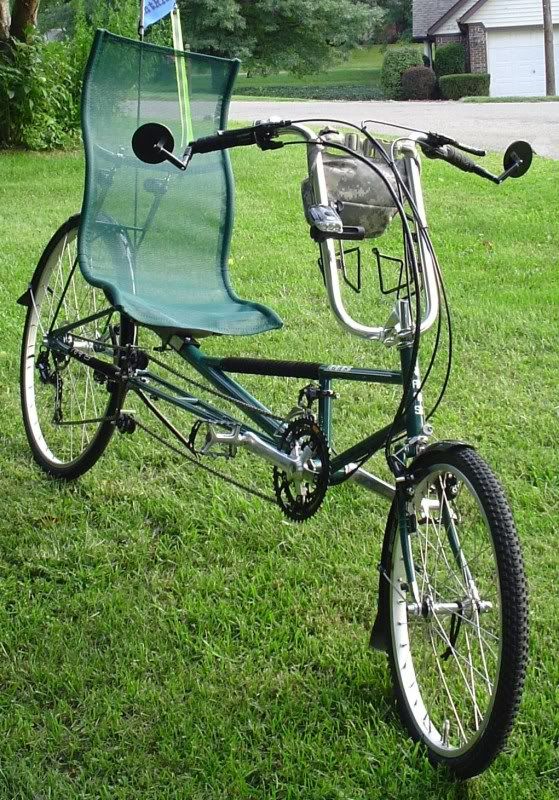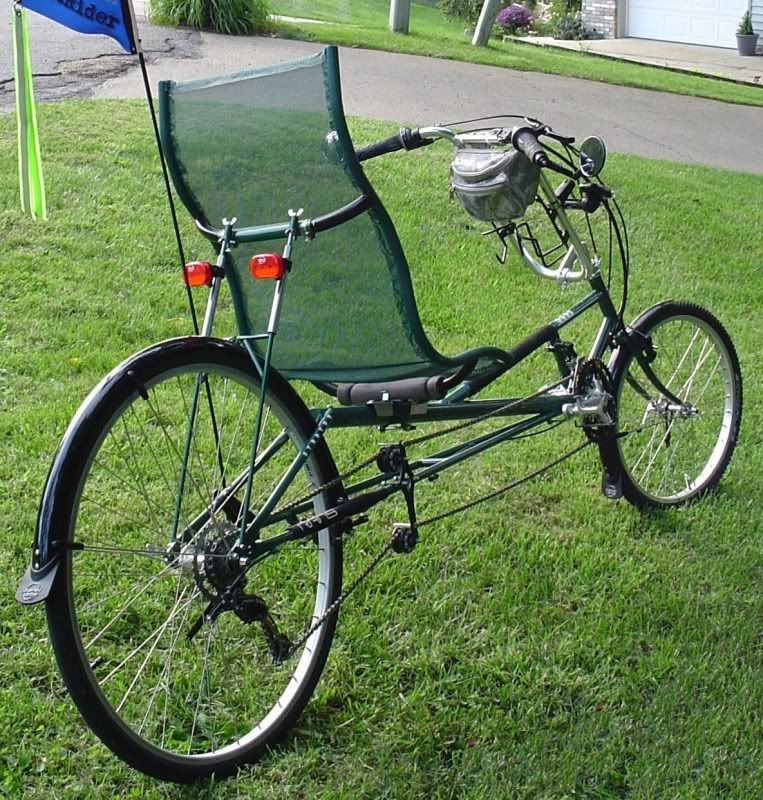 And one suspended from the garage ceiling using a RAD manual bike hoist...I can get it up and down in 30 seconds or less...very handy for saving floor space! I can drive my pickup truck right under it!!